With a 640km coastline, Normandy is particularly keen on developing an ambitious maritime and port policy. This policy is becoming reality in Cherbourg, the city where your competition is organised, thanks to investments in its maritime and port infrastructures. More precisely, I mean supporting the whole sector of renewable marine energies, which made it possible, a few weeks ago, to open the first tidal-turbine assembly plant in the world.
On the other hand, The Normandy Region supports every nautical sport event, such events being tremendously attractive beacons for the territory. This is why we are very happy to support this World University Championship and I want to pay tribute to the organisers and volunteers who will mobilise to make the event a complete success. Thanks to them, The Normandy Region shows its brightest side, a Region able to set up sporting competitions which ring out far beyond our regional borders.
With 80 sport leagues, some 8,000 clubs and 700,000 registered members, Normandy is a land of sport, obviously, a land for all sports. The Region spends €25,000,000 a year to develop an ambitious policy supporting sporting activities, clubs and the development of infrastructures.
To enhance its sporting dynamism, The Normandy Region has decided to apply for a position as support base in the 2024 Olympics. Together with the champions who will compete in the Games, Normandy definitely means to be part of the adventure, on the organising side, by hosting olympic teams during all of this unique adventure.
I wish all of you an excellent competition.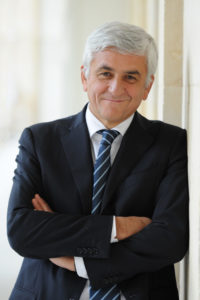 Hervé MORIN
President of the Normandy Region